Monday - Thursday
8:00am - 5:00pm


Water's Edge
James Hanchett, D.D.S.
Family & Cosmetic Dentistry
(231) 627-4301
11404 N Straits Hwy
Cheboygan, MI 49721
View map
James Hanchett, D.D.S.
is rated
5

out of

5

based on

103

reviews from around the Web.
While on vacation I developed a bad tooth ache. They were able to see me the same day I called. The Doc's diagnosis and treatment was right, I was feeling...

A great office made possible by great and friendly professionals! I appreciate and use your online services.

Ginger, Debby, Becky, and of course Dr. Hanchett are wonderful professionals! Thank you, sincerely

Great staff; great dentist. Professional, considerate and ubër friendly dentist and staff. Two thumbs up.

The Dentist and his entire office staff are very friendly and accommodating They make sure the patient understands the work being prescribed, and the options...

It's all good.. I have always had dentist the graduated from UofD.. from my very first.. Dr Bell & Dr Bass.. in Hamtramck. . To now.. all have been...

I found the staff very helpful and efficient. Dr. Hanchett was professional, patient and answered all of my questions.

I give Dr. Hanchett a 5 star rating. Very caring and professional and frindly.

Dr. Hanchett and his staff are superb. They are very friendly, helpful and considerate. I highly recommend this dental practice to anyone.

all is for the best in this best of all possible worlds can you identtfy the character and the author who created him/her?

I was very pleased with the sub for Casie. She was very thorough and gave me some helpful hints regarding some practices which I have already incorporated...

Very friendly office staff and dentist. Highly recommend.

I've always been frightened to go to the dentist. Dr. Hanchett's staff always makes me feel welcome and puts me at ease. I thank them all very much for their...

Staff are always friendly but efficient staying on task while communicating with patient. Best, Wayne Rocheleau

Ben had a great time at the dentist!

We have always found everyone to be friendly and professional. Kasi cleaned my teeth and was very helpful in suggesting things to make it easier for me to...

Dr. Hanchett and is staff are friendly and professional. Our family looks forward to going to the dentist :)

Cheryl was awesome, best hygienist I've had in quite some Time.
Cosmetic & Restorative Dentistry

Teeth Whitening

As a person ages, mineral exposure causes the teeth to gradually darken. Over time, some food, drink, or tobacco products also create unattractive yellowish-brown stains. Less commonly, you may experience discoloration due to some medications or bacterial infections.

We offer several techniques for eliminating discoloration to give you a brighter, more attractive smile. These techniques include:
In-Office Bleaching
At-Home Whitening
Whitening procedures are not a solution for all discoloration (e.g. darkening caused by cavities). Similarly, whitening does not work on all stains. Dr. Hanchett is committed to helping you choose the best option for your personal situation. Some cases that are not appropriate for whitening procedures can be effectively treated with restorative options.
Take home whitening procedures can whiten your teeth about 4 to 6 shades on a standard scale showing the range of teeth color. Our in-office whitening can whiten the teeth up to 8 shades, depending on the level of initial discoloration and your desired results.
Whitening Procedures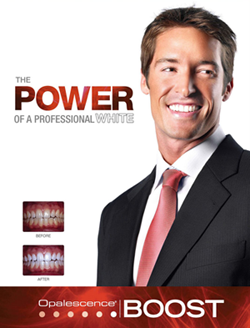 In-Office Chemical Whitening (Opalescence® Boost)
Opalescence Boost Whitening is an in-office treatment that provides you with superior results in about an hour. It uses a chemically activated formula that allows Dr. Hanchett to whiten your teeth without any bothersome heat or ultra-violate rays. Additionally, the chemical formula contains potassium nitrate and fluoride that help to improve your oral health by strengthening the enamel, decreasing sensitivity and increasing resistance to cavities.
At-Home Chemical Whitening (Bleaching)
You may also choose to chemically whiten your teeth at home. In this case, Dr. Hanchett will fit a tray to your bite, and provide you with a mild whitening gel. Over a course of weeks or months, you regularly apply the gel to your teeth using the tray.
This method is more gradual, and less noticeable to others. In rare instances, some patients experience gum sensitivity or discomfort in response to the gel.